Yup! that's right! As if I don't already have enough hobbies or crafts I work on, I just had to go and add another one, right??
I've been hyping myself up all week with the idea of trying this medium out and just couldn't wait to try it out! So I headed to my local Hobby Lobby who stocks the basic supplies and spent $30 to start a new hobby:
I got 7 dual color packs, a basic kit to make a flower applique, extra needles (I know the kit comes with them but I figured I'd want more) and some wool yarn to use as base for other projects.
I started with the kit first. It included some white and black wool, 2 needles, a piece of felt with the flower outline to follow, instructions and the foam block.
It started off easy enough, tear a piece of white off, round it in the general shape of one of the center dots and get to poking!!
Alright, all the dots are...well, sort of done. I know I could use some more wool on a few of those guys, but hey! I want to do the other color!
I got out the black and got to poking it in, around the white dots.
I figured it would happen with my being so naturally accident prone, working with such sharp needles with sorts of barbs, I poked my finger clear through on the edge!! Thankfully, it didn't hurt too much and I didn't get any blood on the felt....w00t??
This is about as far as I got before getting bored with such a 2-D surface project... I had been seeing pictures of people doing animals!! I was inspired by this tutorial: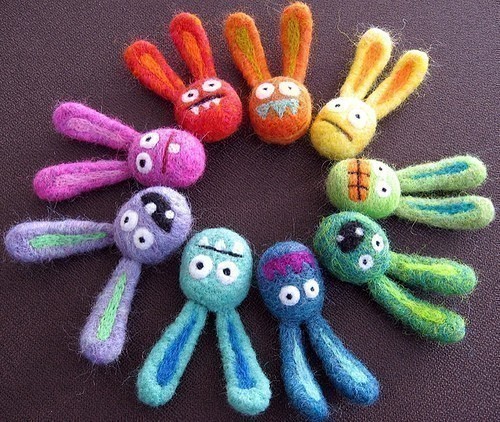 Tutorial for making these can be found here.
Aren't those guys CUTE?!?!?!
I started off with the dark purple I got and tried making a ball, but it was more of a button...it flattened out when I poked it enough. that's ok though, makes it easier I guess for my first try!
I got one ear made and attached...
I made the 2nd ear and decided to try putting an accent color on the inside...
I got the ears attached and got a mouth on him....
And there you have it! My first attempt(s) at needle felting!! What do you guys think?? I definitely need to work on this to get better and gt a sort of method down, but I kinda like the little guy!!
Have you guys tried needle felting before?? Anyone have any hints or tips to give?
Craft ya laters!!